Thank You For Investing In Your Health
How much of a change can you make in 6 weeks?
In 6 weeks you can absolutely make a difference in the way your booty is shaped – but ONLY if you put in the effort each and every day! You have to challenge the muscles to get the most out of this program by increasing resistance weekly (heavier weights, stronger bands), reducing rest breaks, improving the number of reps completed, or reducing the time it takes to complete a workout. Plus, we've done every one of these workouts so we know that they work (because our asses burn)! 
The 6-Week Butt Sculpt Program targets the glutes over multiple days every week throughout the 6 weeks, with fat-burning cardio sprinkled throughout. The focus is on sculpting and building all three layers of glute muscles to build a shapely, sexy butt! 
So why have we included cardio?
These short cardio bursts are meant to give your glutes a bit of a break, while firing up the fat burn to get maximum results! Want more of a great thing? Do 30-minutes of steady-state cardio 4-5 times a week over the course of the program (but that's up to you, depending on your goals). For instance, by week 3, we were doing 15 minutes of cardio in the a.m., at noon and again in the evening; week 4-6, we were doing 30 minutes twice a day.
Nutrition: Food plays a huge role in how your booty will look at the end of the 6 weeks. What worked for us:
Cutting the "treats" throughout the week days but allowing ourselves a treat or two on a weekends

Restricting alcohol to no more than 2 glasses of wine per week

Choosing healthy protein with each meal

Adding veggies 2 of 3 meals per day

Alternate fasting

Reducing carbs throughout the weekdays
But never, within the entire 6-week program, should you feel hungry – not once did we feel "hangry". 
Workout Breakdown: Take the time to look over the workouts before you start. You'll quickly notice they are either AMRAP (as many rounds as possible) workouts or timed challenges.
AMRAP

: challenge yourself to do as many rounds as possible within a set time
Time challenge

: we set the number of rounds and you challenge yourself to do the workout in less and less time as the weeks go by
Keep Track: track your workouts, including:
Number of rounds

Number of reps (when you don't finish a round

Time (for time challenges)

Weights you used

Note your energy level and rate how strong you felt during the workout

Track if you did modifications
This way, you'll see improvements along the way and notice where you can improve. 
Fitness Level: as with all of our workouts, this program is appropriate for everyone. The difference comes down to how much weight you can lift, how much rest you need, plus any additional modifications you might need, i.e., pushups from your knees instead of regular.
Equipment: While we can provide you with guidance on weights needed, each person's "medium" or "heavy" weight will differ. So, how do you judge what weight you should use? Try out an exercise with a particular weight. If the last 3-4 repetitions are challenging but you can finish, that sounds just about right. If you can't finish the number of reps in a set, the weight is likely too heavy for you at that time – so the goal for you is to get to those weights by week 6. If you could do 3-4 more reps by the time we finish a set, you need to bump up the weight to get the maximum results from this program. We can't stress enough that you need to challenge the muscles – so invest in some weights and bands!
Dumbbells (pair): 8-20 lbs. Amazon, Walmart, local supplier (Fitness Depot)

Kettlebells: 10-20 lbs beginners, 25-30 lbs intermediate, 30 lbs+ advanced. I bought mine at Walmart and a local fitness store (Fitness Depot). Amazon also sells them

Gliders: use thicker socks, hand towels or grab a set of fitness gliders. Amazon

Power circle bands: longer & thicker bands (medium-heavy resistance), circle bands (various resistance). Find at Winners, Marshals, Sport Chek or Amazon 

Ankle weights: we use 5lbs (they come with removable inserts). FYI: Walmart sells them pretty cheap

Exercise ball: I like medium size exercise balls. You can use a bench if you don't have a ball.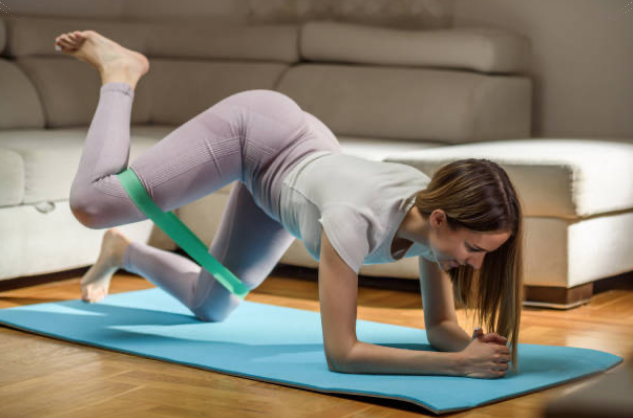 Ask us any questions you may have along the way.
Now go crush these 6 weeks!