What we eat will hugely impact whether some of us bloat. Various nutritional professionals recommend the following recipes as meals and snacks to beat the bloat. Try one, some or all and let us know what you think and whether they worked for you. Happy deflating!
Ginger Lemonade with Aloe (1 serving)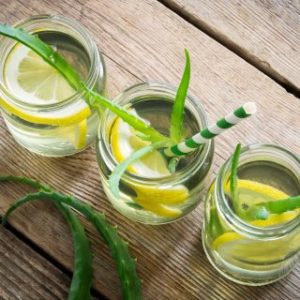 Nutrition Coach, Karen Martel: "This drink tonic works wonders on belly bloat. Both ginger and aloe are known for their amazing digestive qualities. Ginger helps calm the stomach, relieves nausea and has proteolytic qualities. Aloe is well known for it's healing, soothing effects on the gut."
1 fl oz pure aloe juice
2 tbsps lemon juice (freshly squeezed)
1 tbsp maple syrup (or other favourite natural sweetener)
1 tsp ginger (peeled and finely grated)
1 cup water
Add all ingredients to a covered jar or container and shake vigorously
Strain into a glass with ice. Serve immediately and enjoy.
---
Spiced Salmon Kabobs (4 servings)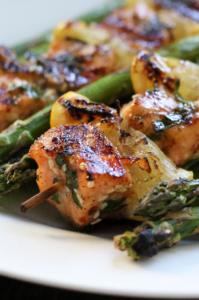 Food Allergy Coach, Erin Lamb: "Asparagus is an anti-bloating superfood. Sure, it makes your urine smell, but it also makes you pee! This helps you flush all that excess water, resulting in relieving any discomfort and bloat. Asparagus also contains prebiotics, which helps support the growth of 'good' bacteria. This helps maintain a healthy balance in your digestive system to prevent and/or reduce gas. Finally, the vegetable contains soluble and insoluble fiber, which helps promote overall digestive health."
"Protein can also act like a natural diuretic helping your body get rid of extra water and is important for water balance in the body."
2 tbsps parsley (chopped)
1 tbsp sesame seeds
1/2 tsp black pepper
1/2 tsp sea salt
1/2 tsp red pepper flakes
2 tbsps maple syrup (or honey or Stevia)
2 tbsps extra virgin olive oil (plus extra for asparagus)
1 1/4 lbs salmon fillet (sliced into 1 inch cubes)
2 lemon (sliced into thin rounds)
8 barbecue skewers
6 cups asparagus (woody ends trimmed off)
Sea salt and black pepper (to taste)
Preheat grill to medium heat. In a mixing bowl, mix the parsley, sesame seeds, black pepper, sea salt, red pepper flakes, maple syrup and olive oil. Mix well. Add the salmon pieces and toss well to coat. Grab your BBQ skewers and slide on a piece of salmon, followed by a folded lemon slice. Repeat until all ingredients are used up and several kabobs are made. Toss asparagus in a splash of olive oil and season with sea salt and black pepper to taste. Place kabobs on one side of the grill and asparagus on the other. Grill both for about 3 – 4 minutes per side, or until salmon flakes with a fork. Remove from the grill and divide between plates. Enjoy!
---
Golden Turmeric Latte (2 servings)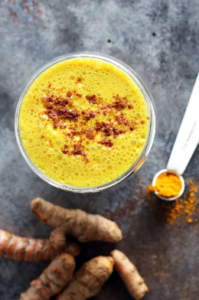 Don't feel like eating because of the bloat? Try this anti-bloat hot beverage instead.
"Ginger is a well known digestive aid helping with nausea, indigestion and bloating/gas; turmeric helps to stimulate the secretion of bile which can help with digestion (especially of fats) helping to reduce bloating that might otherwise occur and cinnamon (like ginger) is classified as a carminative, meaning it not only helps with preventing gas and bloating from occurring but it can help relieve it once it has occurred. Add to these spices that the latte uses coconut milk instead of dairy, which can lead to gas/bloating and other digestive issues for many people, makes this really the perfect drink to sip!"
1 tbsp ginger (grated)
1 cup organic coconut milk (canned)
1 cup water
1 tsp turmeric (powder)
1 tbsp raw honey
1/2 tsp cinnamon
1 1/2 tsps coconut oil
Grate the ginger then squeeze the juice out of it into a saucepan. Discard the pulp. Add the remaining ingredients to the saucepan and place over medium heat. Heat through for about 3 to 5 minutes, not letting it come to a boil. Whisk continuously. Carefully transfer into a heat-proof sealable container. Shake or stir vigorously until a foam starts to form. (Note: You can also use a blender for this step, but the turmeric can stain the blender cup.) Pour into glasses through a sieve and enjoy!
---
Cauliflower, Kale & Lentil Detox Soup (6 servings)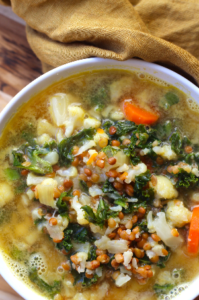 Jass Stupak, CNP,: "This recipe is filled with so many nourishing superfoods to help reduce inflammation and promote gut health like garlic, kale, cauliflower, lentil and olive oil. The nutrient-dense vegetable broth helps to add hydration and minerals to the body."
2 tbsps extra virgin olive oil
1 yellow onion (diced)
2 stalks celery (diced)
2 carrot (medium, peeled and diced)
4 garlic (cloves, minced)
1 head cauliflower (chopped into florets)
4 cups kale Leaves (chopped)
6 cups organic vegetable broth
2 1/4 cups lentils (cooked)
Sea salt and black pepper (to taste)
Heat the olive oil in a large pot. Add the onion, celery, and carrots. Cook for about 10 minutes, or until veggies are softened. Add the garlic and cook for 2-3 more minutes. Add the cauliflower, kale, and vegetable broth. Bring to a boil then reduce heat to a simmer. Let simmer for 20 minutes. Stir in the cooked lentils and season to taste with sea salt and black pepper. Divide between bowls. Enjoy!
---
Pineapple Turmeric Smoothie (2 servings)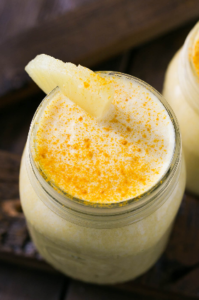 Kathleen Oswalt, RDN: "Pineapple contains a digestive enzyme called bromelain. This enzyme helps breakdown proteins and ease digestion decreasing your chances of feeling gassy and bloated. Ginger contains gingerol, the compound that gives ginger its medicinal properties including aiding in better digestion. Lastly, turmeric coupled with a small amount of black pepper can have strong digestive benefits. Piperine in black pepper is a compound that helps enhance the activity of digestive enzymes in the gut helping your body digest food easier and quicker."
2 cups unsweetened almond milk
2 cups pineapple (diced into chunks)
1 tbsp ginger (peeled and grated)
1/2 cup vanilla protein powder
1 tsp turmeric (powder)
Combine all ingredients together in a blender and blend very well until smooth. Pour into glasses and enjoy!
---
Banana Cinnamon Smoothie (2 servings)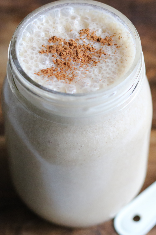 Nutritionist Dana Silvestri: "Banana and cinnamon are wonderfully soothing on the digestive system and pair well together to aid bloating, gas and an upset stomach. This recipe also includes flax and chia seeds, which are incredible sources of soluble and insoluble fibre, and can help reduce bloating by feeding the friendly bacteria in your gut. However, if seeds do not digest well for you, swapping them out for nut butter can be a great alternative. Eliminating foods that you are intolerant to plays a large role in reducing bloating."
1/2 cup vanilla protein powder
2 tbsps ground flax seed
2 tbsps chia seeds
2 bananas (frozen)
4 ice cubes
2 cups water
1/2 tsp cinnamon
Add all ingredients to a blender and blend until smooth. Pour into glasses and enjoy!
---
Lemon Dill Baked Salmon (4 servings)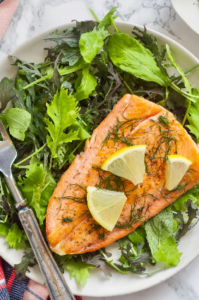 Tina Gravalos, CNP: "Healthy fats are amazing for gut health because they help to reduce inflammation. Not only does the Lemon Dill Baked Salmon have all the healthy fats from the fish, ghee and hemp seeds, it also has greens. Leafy greens are also anti-inflammatory and will help with keeping your gut health in check. This recipe is super versatile and you can use any greens you would like, making it a serious nutritious powerhouse."
1 1/4 lbs salmon fillet
1 tbsp ghee (melted)
2 garlic (cloves, minced)
2 tbsps fresh dill (chopped)
1 lemon (zested and juiced)
1/4 tsp sea salt (or more to taste)
4 cups mixed greens
Preheat the oven to 375ºF (191ºC). Line a baking sheet with aluminum foil and place the salmon in the middle. In a small jar, mix together the melted ghee, garlic, dill, lemon juice, lemon zest and sea salt. Pour it over the salmon. Fold up the edges of the foil so that the fish is sealed in a pouch. Bake for 15 to 20 minutes or until fish flakes with a fork. Remove the salmon from the oven and serve with mixed greens. Enjoy!