The winner of the January Accountability challenge is Leslee Heyser!
We couldn't be more proud of her for showing real commitment to keeping active and making healthy food choices. Leslee has fitness and wellness goals and she's doing what needs to be done— no excuses- to achieve those goals!
Leslee will receive 3 Free virtual personal training sessions from us this month.
A message from Leslee below: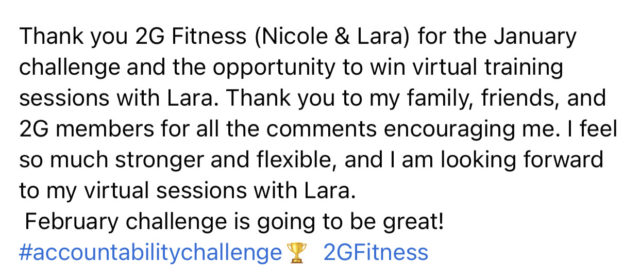 What we learned from the January Challenge:
Having a weekly workout calender which tells our clients what exact workouts to do on each day really helps them focus. It provides them with structure. Having them post in the Facebook group after they've completed the workouts also helps to keep them accountable.
Many could use guidance when it comes to their nutrition. Even making small changes to the "healthy" meals they were posting can really add up to big changes. Lots of our members were doing the workouts but falling short when it came to the healthy food choices.
Seeing our member's food posts during that challenge allows us to provide them with healthier versions of the foods they love such as:
salads
tacos
sandwiches
soups
nachos
chocolate
Stay tuned to what we have coming up for this month of February!